N-Bone® Quado® Interactive Bone Pumpkin Flavor
N-Bone® Quado® is the bone that stands on its own! The unique "quad" design makes it easy for your canine pal to hold, chew, and play. There are four delicious legs for chewing and holding! Delicious pumpkin flavor entices, peppermint helps freshen breath, and the treat helps scrape away plaque and tartar while your dog chews. Dogs love it, and any adult dog can manipulate it very easily. Quado® is not made with any plastic, nylon or rubber and is completely edible. Keep your dog entertained and help curb destructive chewing behaviors with this unique interactive treat!
Corn Free, Wheat Free, Soy Free, Gluten Free, and Dairy Free
View full details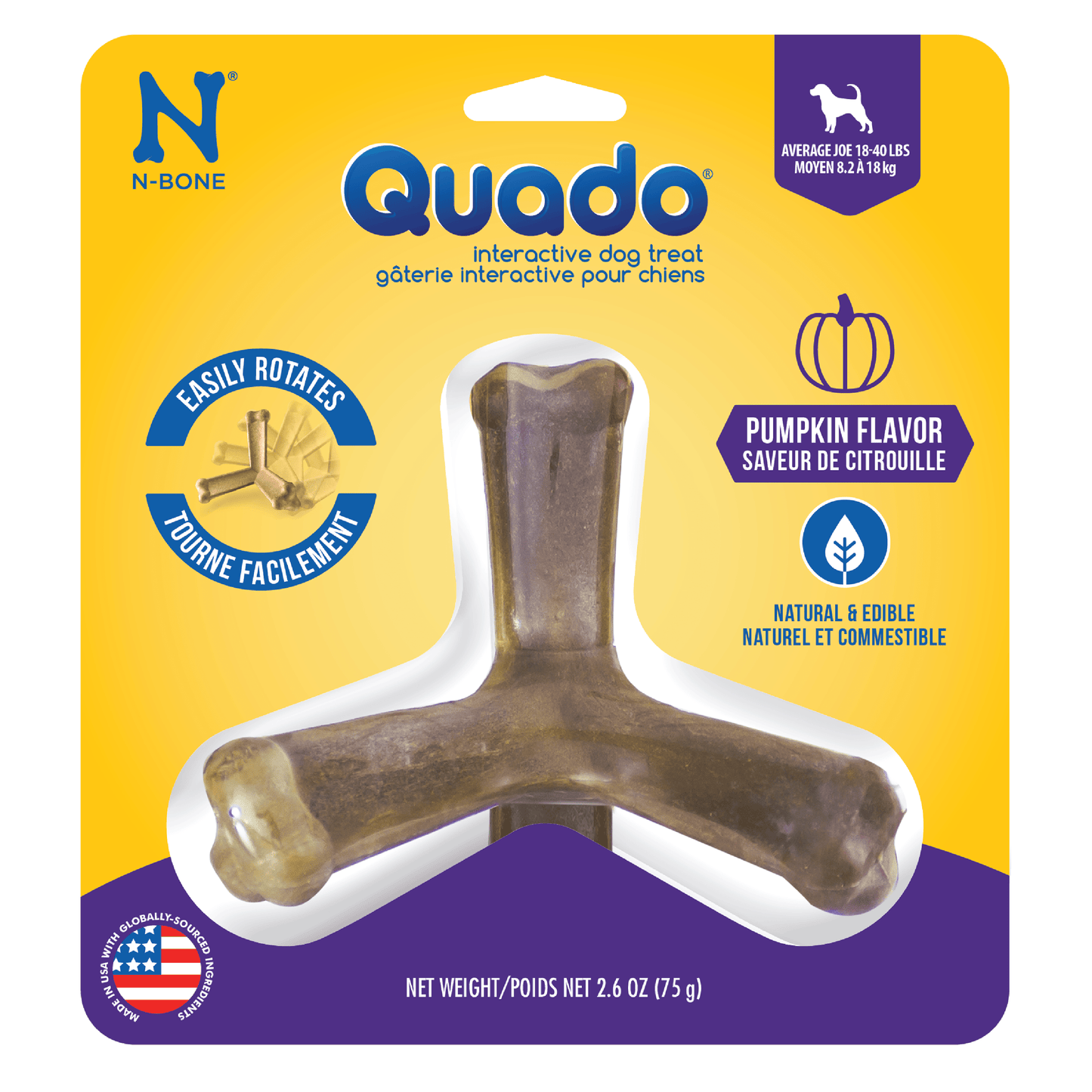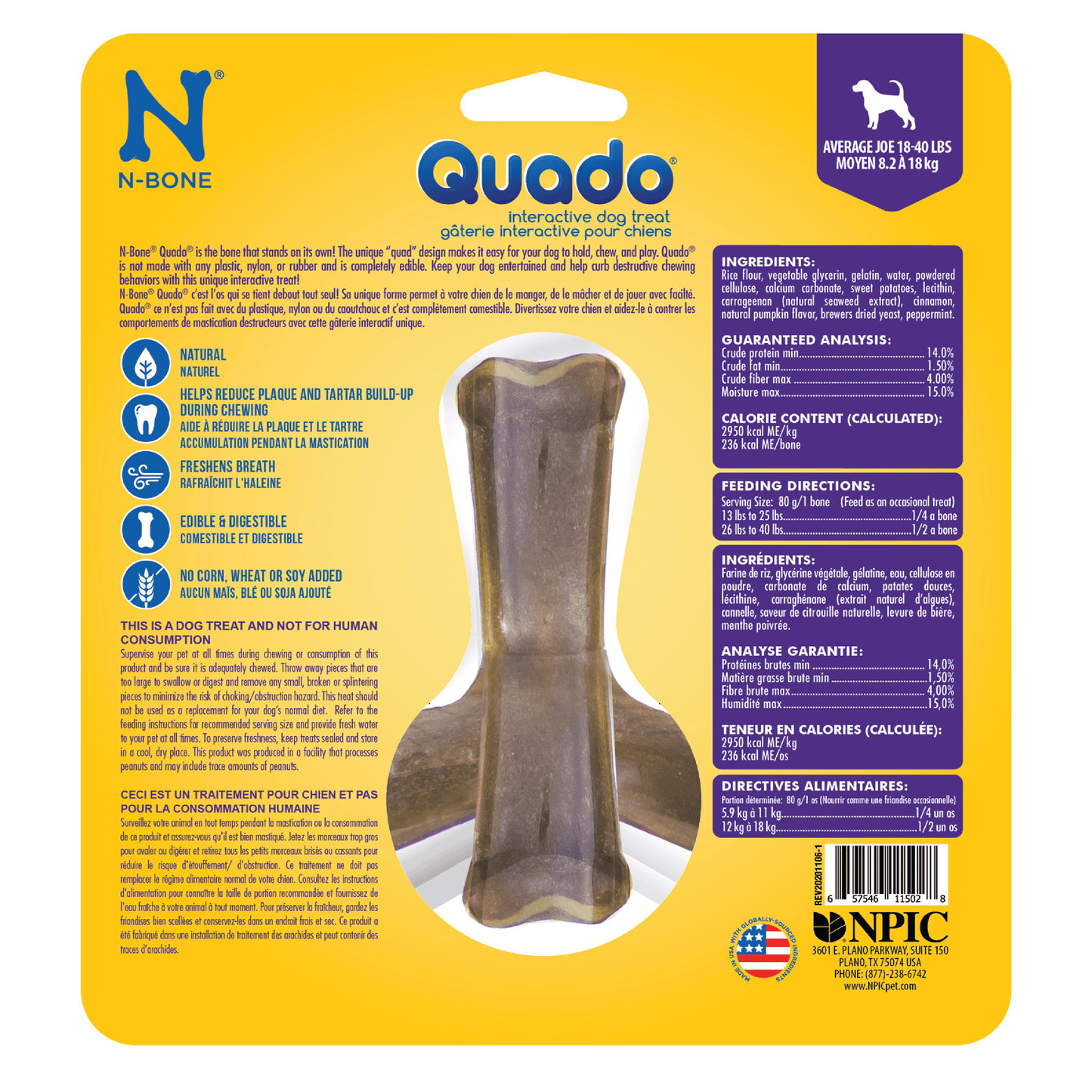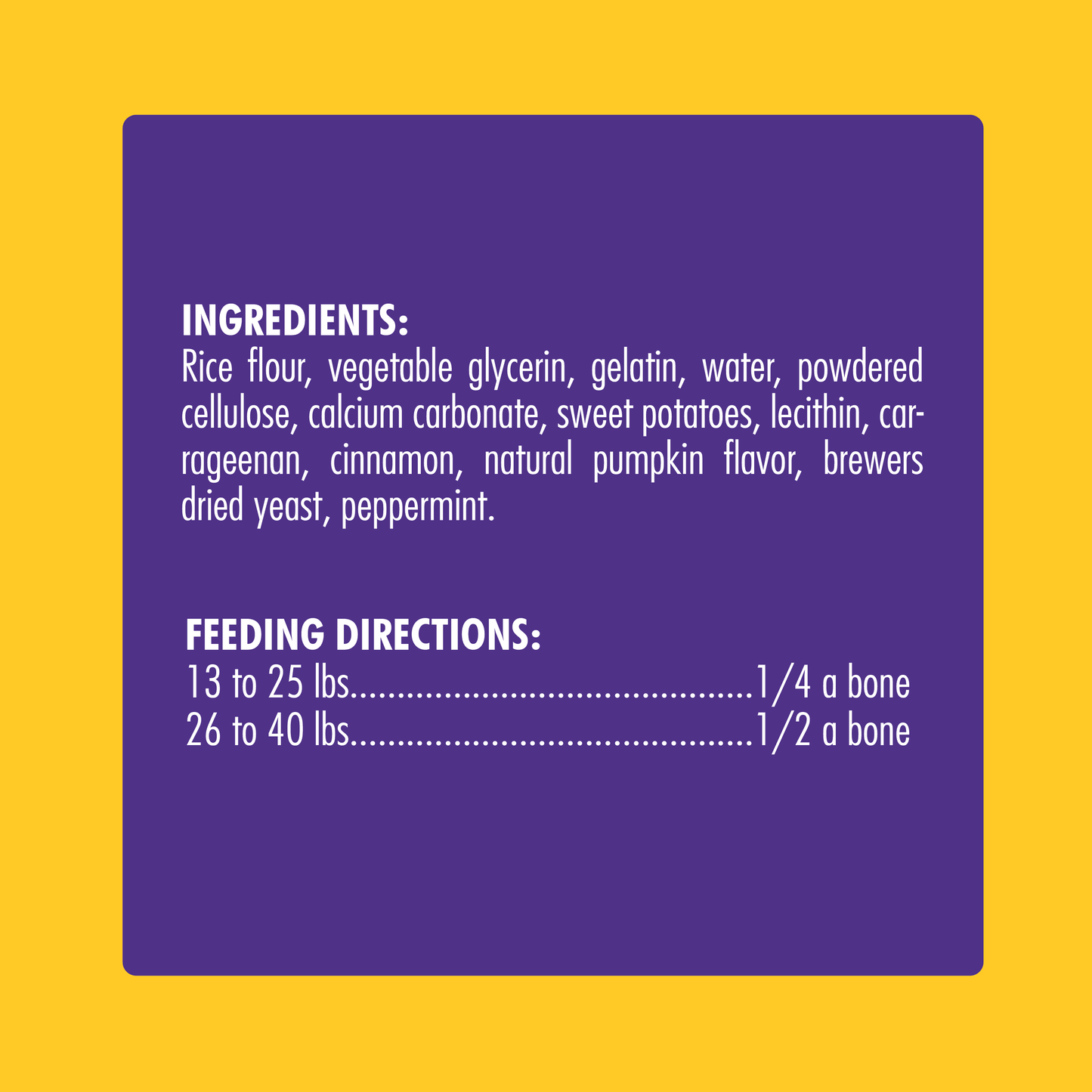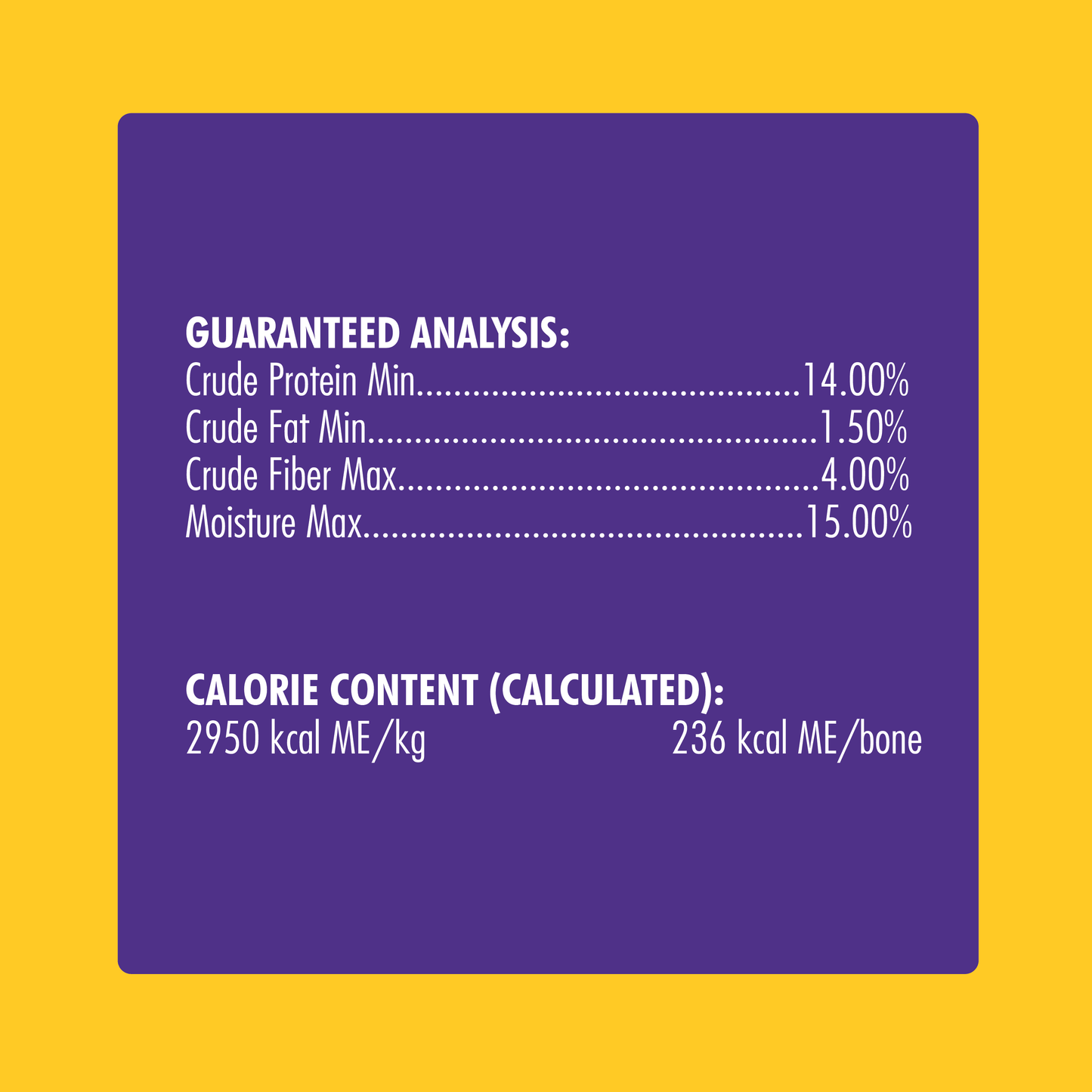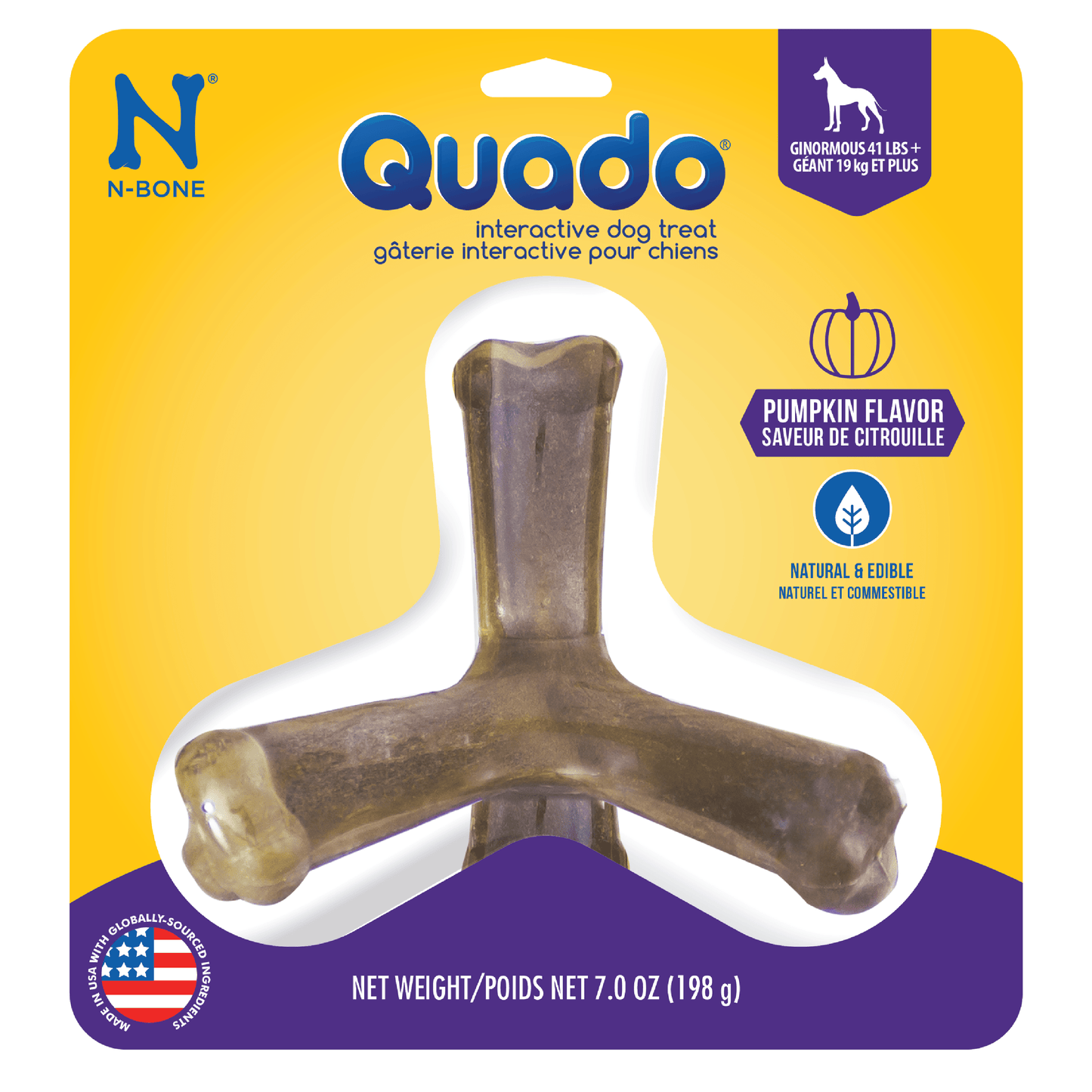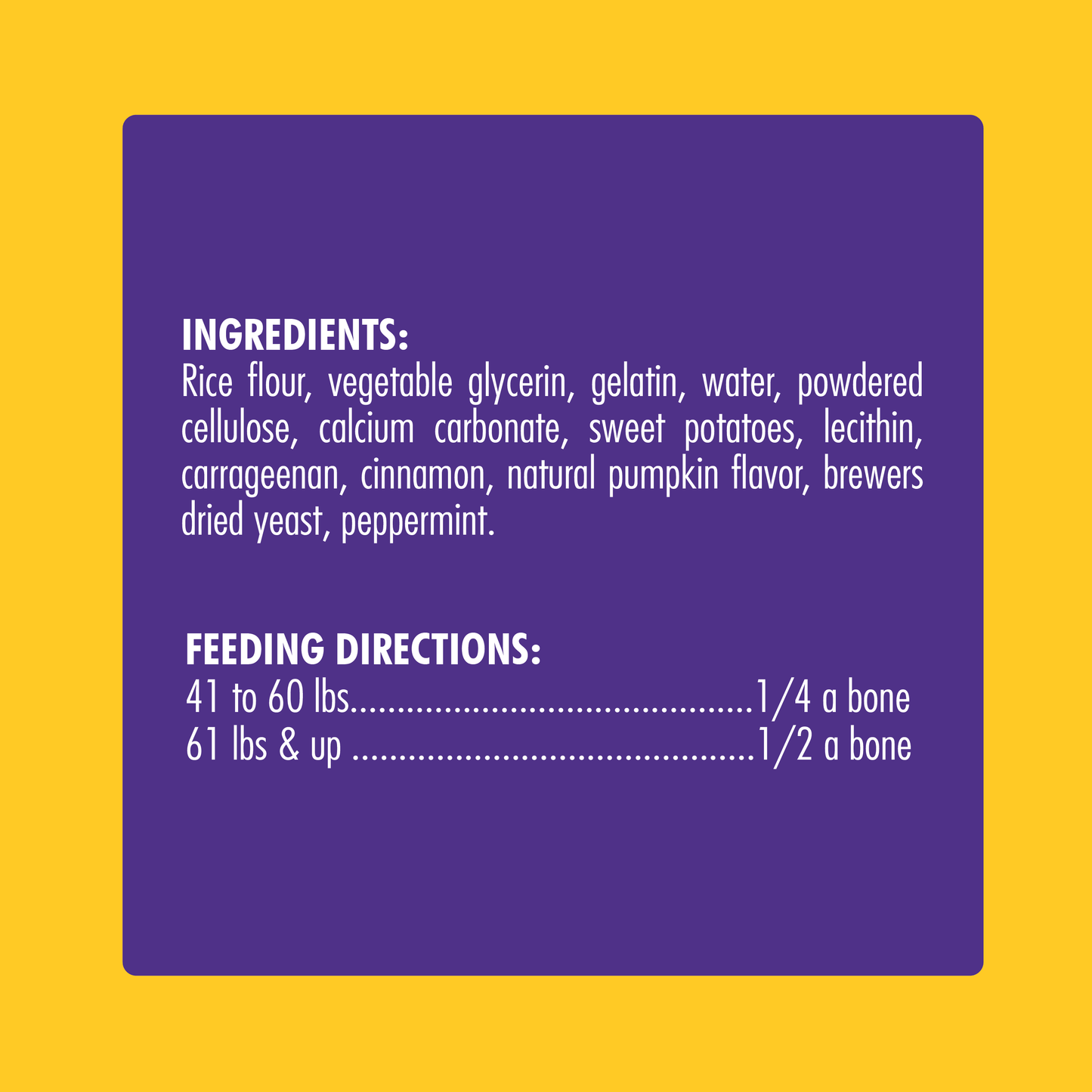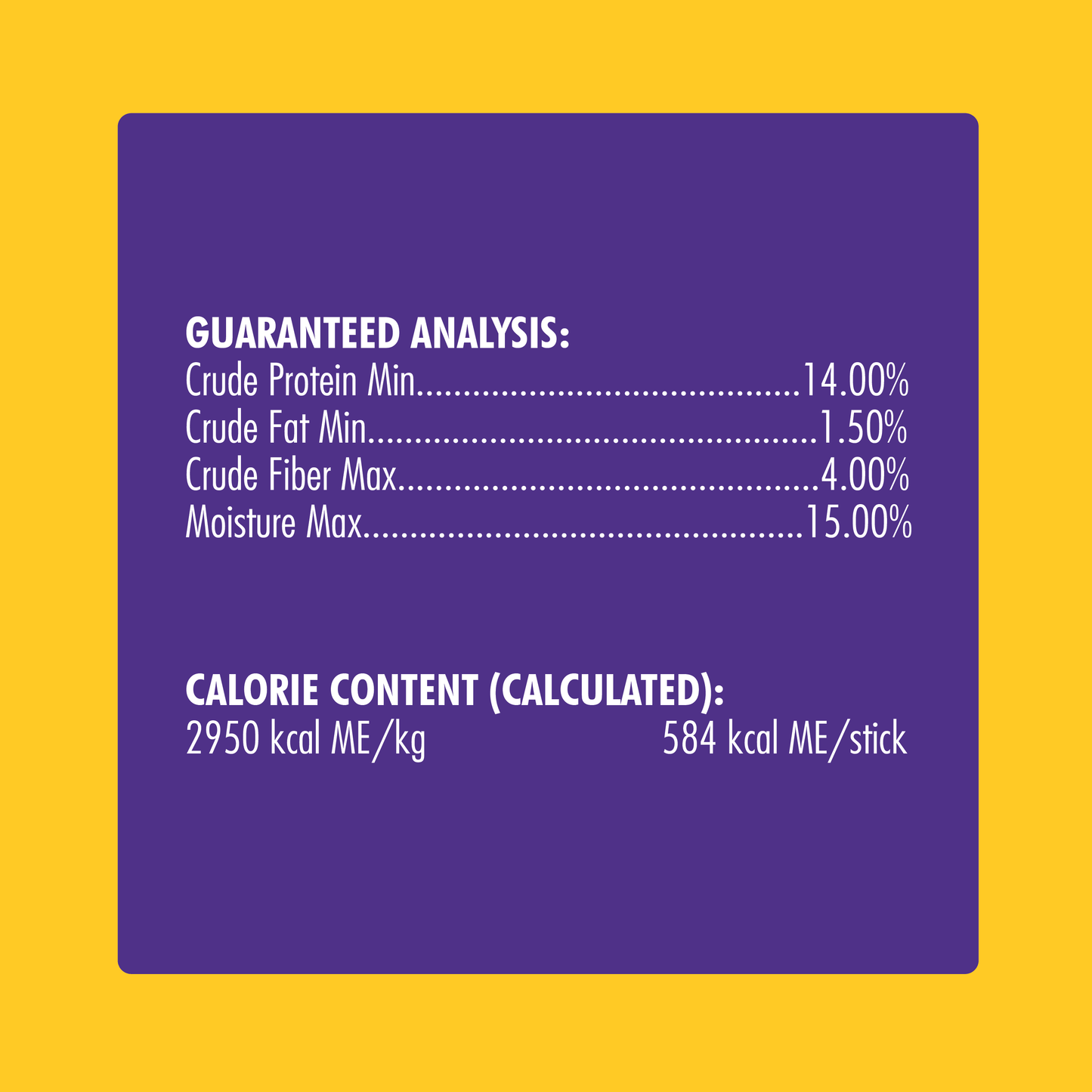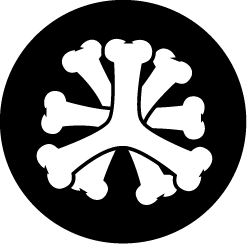 Interactive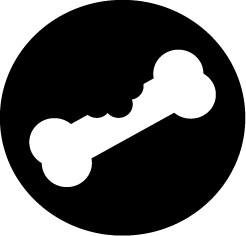 Hard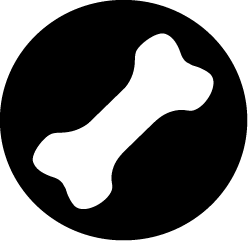 Strong Chew Strength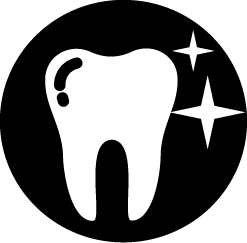 Reduces Tartar Plaque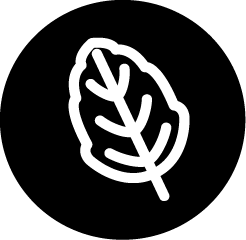 Freshens Breath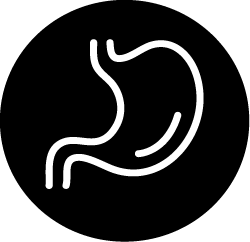 Easy to Digest
Treat Texture
Hard

Applicable Lifestage
All Stages
Ingredients
Rice flour, vegetable glycerin, gelatin, water, powdered cellulose, calcium carbonate, sweet potatoes, lecithin, carrageenan (natural seaweed extract), cinnamon, natural pumpkin flavor, brewers dried yeast, peppermint.

Calorie Content
2950 kcal ME/kg
236.0 kcal ME/average joe size bone
584.0 kcal ME/ginormous size bone

Feeding Directions
13-25 lbs 1/4 average joe bone per day
26-40 lbs 1/2 average joe bone per day
40+ lbs 1/4 ginormous bone per day

Guaranteed Analysis
CRUDE PROTEIN MIN: 14.0%
CRUDE FAT MIN: 1.5%
CRUDE FAT MAX: 2.5%
CRUDE FIBER MAX: 4.0%
MOISTURE MAX: 15.0%

Disclaimer
THIS IS A DOG TREAT AND NOT FOR HUMAN CONSUMPTION

Supervise your pet at all times during chewing or consumption of this product and be sure it is adequately chewed. Throw away pieces that are too large to swallow or digest and remove any small, broken or splintering piece to minimize the risk of choking/obstruction hazard. This treat should not be used as a replacement for your dog's normal diet. Refer to the feeding directions for recommended serving size and provide fresh water to your pet at all time. To preserve freshness, keep treats sealed and stored in a cool, dry place. This product was produced in a facility that processes peanuts and may include trace amounts of peanuts.